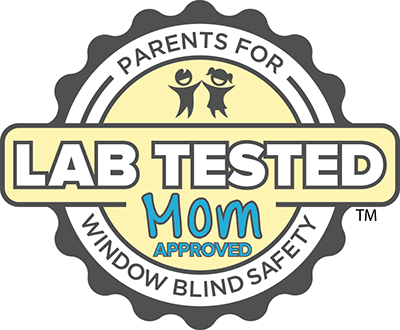 The PFWBS Seal of Approval Testing Program was created in 2005 to help consumers identify which products are best for kids. Consumers who see the label Lab Tested, Mom Approved™ not only can easily tell which products are safe for their homes but also have extra confidence in brands they can trust.
Qualifying products must be cordless or have inaccessible outer cords. Inner cords must be tight enough not to create a loop a child can place around it's head. Manufactures whose products comply with the PFWBS certification program are tested by a third party testing lab and approved by Parents for Window Blind Safety testing committee as "Safe for Kids". Products that pass are labeled Lab Tested, Mom Approved™
Lab Tested, Mom Approved™ products are available online and in retailers across the country. Find out more by clicking the links below.