If you are reading this, chances are you or someone you know has been thrust into the club that no one wants to join— the club no one wished existed. And yet here you are. And while you might feel overwhelmed and alone at this point in your grief journey, know that others have gone before you and walked a similar path. It is from the experiences of other grieving parents that PFWBS has compiled suggestions that hopefully will provide some assistance as you face the all too real nightmare of planning a child's funeral.
Although there is nothing that can be said or done to prepare a parent for planning his or her child's funeral, there are various steps a parent can take that can help ever so slightly.
Before the Service
~ Designate a coordinator, be it a family member or close family friend, to help communicate your desires and needs to others. Phone calls to various people and business will have to be made and often it is all a parent can do to simply breathe.
~GoFundMe campaigns can be very successful in raising funds to help with funeral costs. No one ever plans to bury their child. If everyone donates $25, the funeral and headstone could be paid for very quickly with the help of family and friends. Ask that this be mentioned at the service.
~ Know your rights as a parent. You have the right to dress your child, see your child, and touch your child as much as you want before the funeral. Although hospitals do not always allow you the time you need to say goodbye, funeral homes tend to be more accommodating. Simply convey your wishes to the funeral director.
~ Be very specific with what you want the funeral home to do. If you want a lock of your child's hair, be sure to tell them how much you want and how long you want it.
~ Consider the location of the funeral home you have selected to use. If it is located in route to a normally traveled destination, be it school or work, it might be worth considering a location farther away so that you do not have to relive events that took place at the funeral home everyday.
~ Consider hiring someone to take photographs during the funeral service. Some of the most emotional and meaning photographs can come from the service and may provide comfort to you at a later time.
~ Perhaps you might incorporate your child's favorite color, or a color that best represents him or her, throughout the funeral service. Take that color and use it in flowers, balloons, table cloths, photo displays, etc.
~ Carefully select songs to be used during the service. Songs chosen for the service can often trigger emotional memories for years to come.
~Ask siblings if they would like to place any special items in the casket. This will help involve the siblings and give them a little time to think about what, if anything, they would like to include.
During the Service
~ If you feel moved to speak at your child's service, don't allow family to discourage you from doing so. This is your time to honor your child. Stand firm on what you want or need to say. It may help to write your thoughts out so that if you do become overwhelmed with emotion someone else can finish your tribute.
~ If you have other young children it is helpful to ask someone to take them out of the service if they cannot sit still or remain quiet. Although you may want your family to remain together, it sometimes helps to be able to focus your full attention on the service.
~Create a kids room or a place where kids can go to color, play, or make a card for your child. Bring crayons, art supplies, and whatever else you might think would be a blessing to the visiting children.
After the Service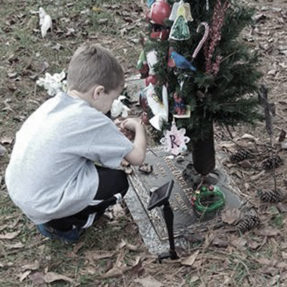 ~ A balloon release is often done either outside of the funeral service or at the graveside. Ask a friend to bring and distribute the balloons at a specific time.
~ Take as long as you need at the graveside. Do not feel pressured to leave and leave only when you are ready to do so.
~ If you decide to have your child cremated, do not limit yourself to funeral home urns. There are many other choices, especially online.
~ Unless you want to keep all the plants and flowers you receive, ask loved ones to take some and either plant them for you or plant them at their homes. Too many vases of flowers and baskets of potted plants can sometimes make it seem as if the funeral service followed you back to your home. It's good
~ Because there may be gifts given in memory of your child, lighten your load and let someone else write thank you notes. No one expects thank you notes from a grieving parent but since there are always people who want to help this is one way their kindness can be put to use.
When a parent is called to bury a child, it goes against the natural order of things. Life is changed forever and the future seems so bleak. The last thing that a parent wants to do is plan a service to honor a life that was cut too short. But you can do it. You can one day look back and know that however you chose to structure your child's funeral service the decisions you made were made with love. ~Member of PFWBS