During the month of October, chosen as National Window Covering Safety Month, Parents for Window Blind Safety joins Sunburst Shutters to raise awareness around window safety for children and at home who could be at-risk of the potential dangers that corded window treatments pose.
While, earlier this year in January, after 17 years of advocacy from PFWBS, The Window Covering Manufacturing Association, (WCMA) imposed a new safety standard that removed hazardous cords on stock window coverings in the USA.  It's likely many homes have window coverings that do not comply with the new standards, and that can post a serious threats to children from infants to adolescents.
As parents attempt to reduce the risk of other home accidents for children, it's important for them to be aware of the hazards that lurk in the least expected places.  Though, most of the accidents that occur in the home are preventable, proactive parents can play a critical role in avoiding these accidents by closely examining their own home for potential dangers.
A couple dangers inside the home that parents often overlook or treat lightly are the windows & window coverings, where incidences range from falls to, sadly, hazardous cords that can lengthen and cause strangulation.
Here are four window safety tips that can help to protect your children:
1- Install Windows With the Latches on Top.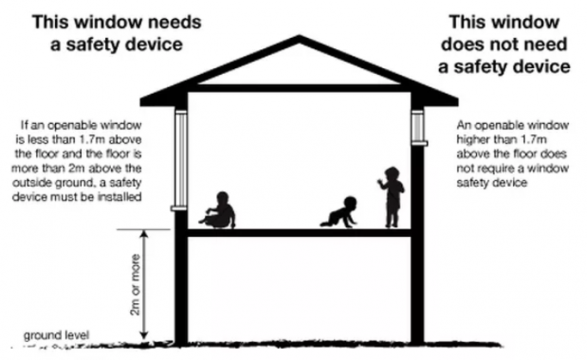 If the window latch is out of your child's reach, you can eliminate the risk of the child opening the window and falling out, or even the danger of getting caught between the window and the window sill.  Consider installing new windows in children's rooms if you have windows with latches at the bottom of the window—within reach of children.  Installing windows with the latch on top can deter children from opening the window and exposing themselves to even more safety hazards.
2- Follow the "Four Inch" Rule.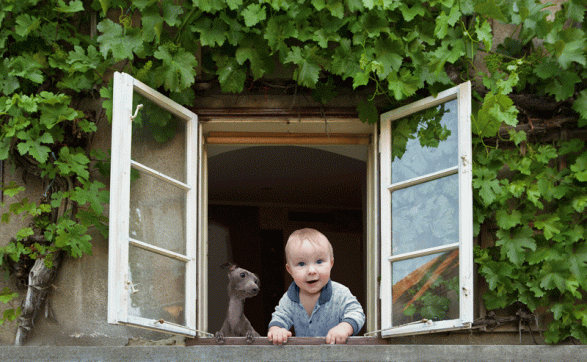 Follow the four-inch rule means installing window stops that allow windows to open no more than four inches. According to the Consumer Product Safety Commission, a child's head cannot typically fit through an opening in the window four inches or less.  In addition to stops, you can use window guards to prevent children from falling out of the window.  Screens are made to keep bugs out – NOT to keep small children in.  They are also designed to pop out for fire safety, and the weight of a toddler can easily push through the screen.  Using window guards or window stops--available at most home improvement stores–can help prevent a small child from falling through a frail window screen.
3-Install Cordless Window Coverings starting in bedrooms and play areas.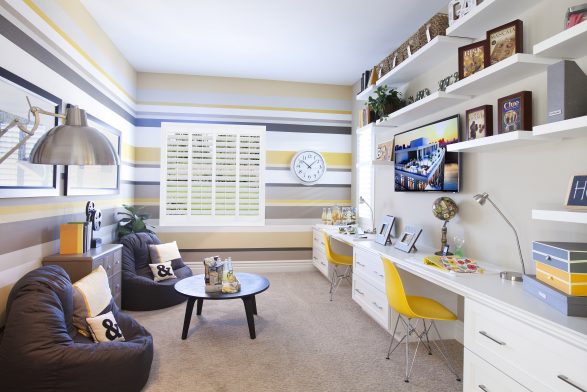 A little-known and often over-looked danger in many homes is corded window blinds.  According to a recent study by Center for Injury Research and Policy at Nationwide Children's Hospital more than 600 young children are treated in U.S. emergency departments (EDs) each year for injuries related to corded window blinds between 1990 and 2015. 271 infants and young children died from accidentally strangling in window cords – and an estimated 140 children have died from strangulation in window covering cords since 2000, the year "safety devices" were implemented into the safety regulations by the window blind industry.  Our extensive injury data, states that many of the recorded deaths and injuries involved products which used "safety devices" that complied with the current ANSI/WCMA A100.1 Safety Standard at the time of the incident.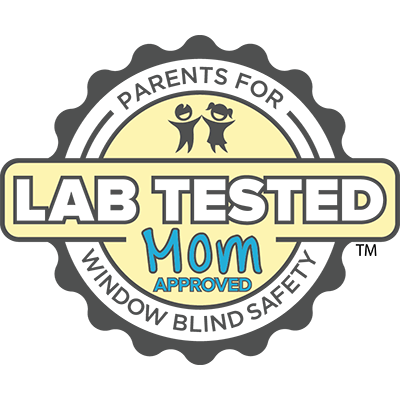 In 2005, Sunburst Shutters the first company to receive our  unbiased  Lab Tested Mom Approved Seal, as interior shutters have been deemed the safest window covering, not only because of their completely cordless nature (compared to mini blinds, shades, curtains, etc.) but in addition, it is physically impossible for a child to fit into the space between each louver of the Sunburst Shutter – while blinds with hazardous cords can often trap children in several ways by either loose inner cords,  cords tied up in safety cleats or looped cords and chains in tie down devices that break away from walls.
4- Keep Furniture Away From Windows & Window Coverings With Cords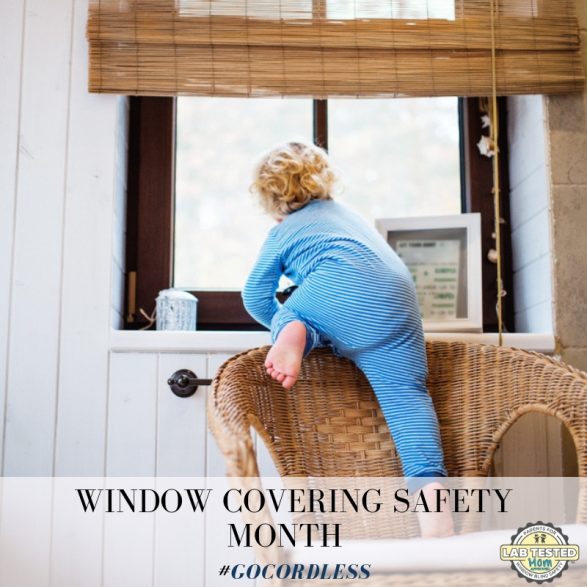 Even if you have followed all-of-the-above safety precautions, keeping children completely away from windows will further prevent window-related accidents.  Be sure to place cribs, playpens, beds, tables etc. against the wall and away from any windows, especially if they are covered with long corded window treatments.
Some reports of accidental strangulations involve window cords within reach of not only an infant's crib or playpen, but even when older children, roughly between ages 5-7, are innocently playing.
It is important to note that there are no infallible solutions to child proofing, especially when it comes to your home's windows and window treatments, as accidents can occur regardless, even with adult supervision.
Shutters are the best investment you can make in your home for three reasons.
Shutters outlast all other window covering products which industry claims need to be replaced every 7 years. Shutters last a lifetime.
Shutters reduce your energy bill.
Shutters are child and pet safe.
Check out the wide variety of shutters that Sunburst Shutters has on their product page.